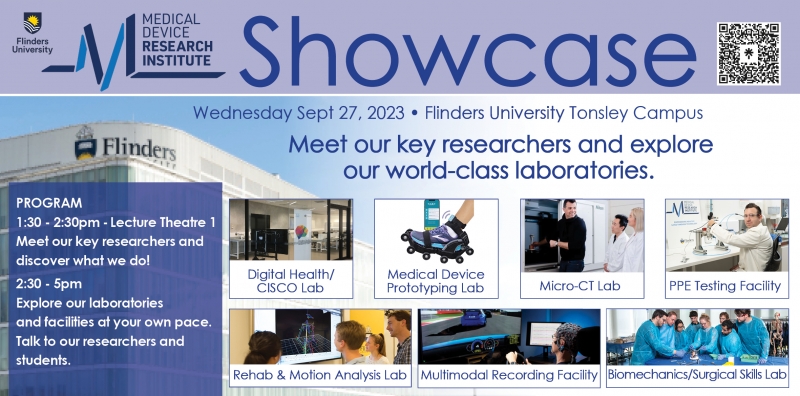 Sorry you missed this great event. Keep an eye on our website or Twitter for upcoming events.
The Medical Device Research Institute conducts world leading, collaborative research into Medical Devices to meet challenges facing the global healthcare sector.
You are invited to join us for the MDRI Showcase to hear from our key researchers and explore our labs and facilities at Flinders University at Tonsley on Wednesday 27 September 2023.
Program:
1:30pm – 2:30pm
Lecture Theatre 1, Ground Floor – Meet our key researchers and discover what we do.
Rapid fire PhD presentations
MDRI Industry collaboration success stories
Learn about our mentoring program (and see how you can be involved)
2:30pm – 5pm
Explore our laboratories and facilities at your own pace and talk to our researches and students.
Visit our facilities:
Medical Device Prototyping Lab
Biomechanical/ Surgical Skills Lab
Digital Health/CISCO Lab
Rehab and Motion Analysis Lab
Multimodal Recording Facility
PPE Testing Facility
MicroCT Lab