New directory connecting Australia's medical device sector launched to drive innovation
The Medical Device Partnering Program today launches the first dedicated online Capability Directory for the medical device sector, to boost innovation and development of cutting-edge medical devices and technologies in Australia.
Funded by MTPConnect, the Capability Directory incorporates details of more than 2,600 Australian organisations relevant to the medical device industry, bringing together expert research, clinical and manufacturing capabilities of Australian organisations.
The directory will help innovators to connect with organisations so they can develop their idea ready for market. It can be used by businesses to identify research organisations who can help to develop new products, or by start-up enterprises looking for advanced manufacturers who can build new products.
The MDPP is an ideas incubator, fostering collaborations between researchers, industry, end-users and government to develop new medical devices and technologies with global market potential. Led by Professor Karen Reynolds of Flinders University, the Program provides a mechanism to develop proof of concept, prototyping, clinical evaluation and commercialisation planning.
"Our aim is to build on the current research and manufacturing capability across the nation and develop Australia's position as a global leader in the growing medical devices market. Our new Capability Directory is going to make it a lot easier for innovators to tap into the rich sovereign ecosystem that exists here and get the support they need to develop, commercialise and locally manufacture a new medical device," said MDPP Director Professor Karen Reynolds.
"As we move into a new era of adaptation and flexibility, driven by extraordinary challenges such as the COVID-19 pandemic, manufacturers can pivot into new markets when given the opportunity and connections to do so and our Capability Directory can help.
"We experienced this firsthand when setting up a PPE testing facility with UniSA to support COVID-19 face mask testing facility for Australia. The connections to experts in materials science, medical device research, clinical validation and therapeutic product regulation in the directory made it possible to do so rapidly" said Professor Reynolds.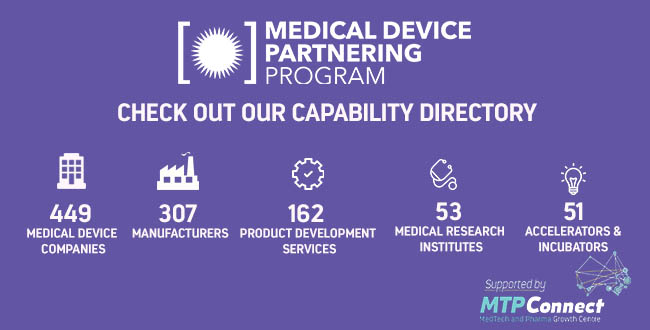 MTPConnect Managing Director and CEO, Dr Dan Grant, explained the Directory had been commissioned because there was a need for a central repository of stakeholders in the medical technology sector.
"We need to integrate and connect the expertise we have across our nation to promote industry growth, and the MDPP's Capability Directory represents a valuable resource for the medical innovation community who are creating high-tech medical devices to improve health and wellbeing," said Dr Dan Grant.
The MDPP has been named a finalist in the Excellence in Science and Industry Collaboration section of the South Australian Science Excellence Awards, for the work it does with inventors from research, industry and clinical settings by facilitating the design, patenting and development of new medical technologies and products - including the 'Ezy-Aim' orthopaedic surgery device by Austofix and Ferronova's early stage cancer diagnostics device.
The Capability Directory is now online at the MDPP website: https://mdpp.org.au/capability