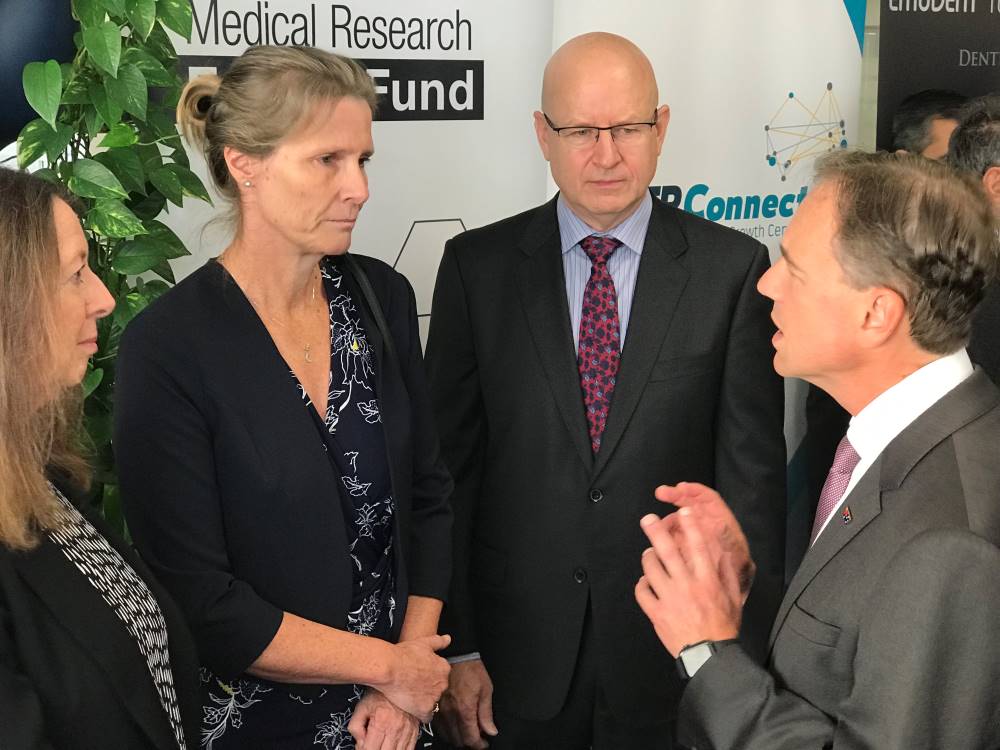 18 February 2019
The Medical Device Partnering Program (led by Flinders University) has welcomed the Federal Government's announcement today that the Program's partnership with MTPConnect, BioCurate and UniQuest will operate the $22.3 million Biomedical Translation Bridge (BTB) Program.
The BTB program forms part of the Federal Government's Medical Research Future Fund and aims to help early stage health and medical research ventures reach proof-of-concept stage.
MDPP Director Professor Karen Reynolds said today's announcement acknowledges the reputation of the Program and cements the MDPPs role as connector within the medtech sector.
"MDPP has a 10-year track record of successfully facilitating early-stage ideation and research for new medical devices. Through the BTB program we will leverage our diverse connections and expertise to optimise the success of Australia's medtech ventures," Professor Reynolds said.
Through the BTB partnership, the MDPP will assess and support eligible medical technology applications for funding, whilst BioCurate and UniQuest will together do the same for therapeutics.
MTPConnect, the Medical Technologies and Pharmaceuticals Industry Growth Centre, will administer the BTB Program.
MTPConnect CEO Dr Dan Grant said the partners bring decades of industry-based experience and an enviable track record in research translation to the program.
"By joining forces with BioCurate, UniQuest and MDPP we've created a powerful partnership venture that brings national reach, industry capabilities and expertise and commercial know-how to the task of boosting translation of Australia's healthtech research," Dr Grant said.
"Under the Biomedical Translation Bridge (BTB) program, projects for new therapies, technologies and medical devices will be eligible for up to $1 million over a period of up to three years to support translation of Australian medical research through to the proof of concept stage.
"The BTB program has a strong commercial imperative, driving development of research initiatives to improve the health of Australians that also generate commercial returns to help create the high paying jobs of the future."
"MTPConnect will also partner with the Bridge and BridgeTech programs from the Queensland University of Technology to provide opportunities for skills development to applicants, further enhancing the commercialisation advice and nurturing we can provide to BTB applicants."
Read the full MTPConnect media release here.
The Medical Device Partnering Program (MDPP) is an ideas incubator - fostering collaborations between researchers, industry, end-users and government to develop medical technologies with global market potential.
MDPP is unique in its focus and the way that it operates. It works at the very early stage, turning ideas into proven concepts. It has reliable processes and tools that enable partners to rapidly work together under low risk conditions. It is able to leverage a diverse range of expertise to contribute to product conceptualisation, including health professionals, manufacturers, engineers and service providers. The focused scale of a 250-hour project, combined with a product opportunity assessment, delivers tangible outcomes for clients.
Visit www.mdpp.org.au for more information.