The Medical Device Partnering Program (MDPP) celebrated a significant milestone last week (March 28), formally launching its operations in Victoria.
Officially launched by the Hon. Martin Pakula, Minister for Jobs, Innovation and Trade, this event also signified the beginning of MDPP's national expansion.
The theme of the event was partnership, with the resounding message, Many Minds Make Great Work.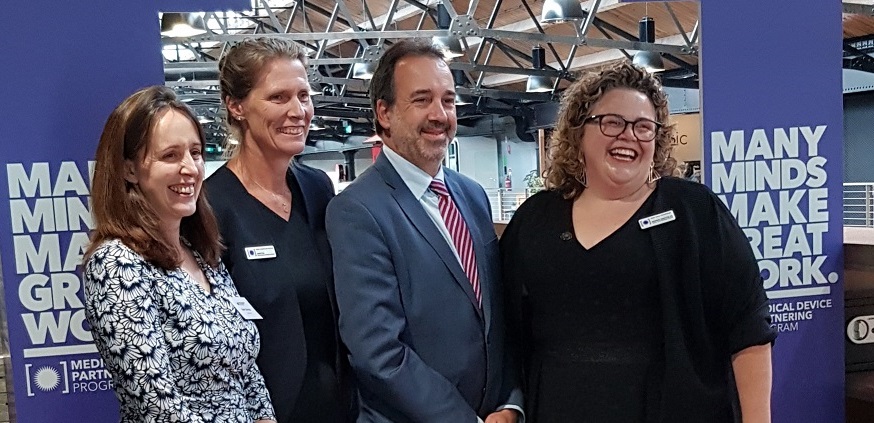 [L-R: Dr Kate Cornick (CEO LaunchVic), Professor Karen Reynolds (MDPP Director), The Hon. Martin Pakula (Minister for Jobs, Innovation and Trade Victoria), and Professor Sally McArthur (MDPP Regional Director Victoria]
MDPP Director and MC, Professor Karen Reynolds opened the event by thanking the many partners who have made national expansion possible.
Dr Kate Cornick, CEO of LaunchVic, the state government agency charged with growing the Victorian startup ecosystem, spoke about the support that they have invested to deliver the program In Victoria.
In his speech, Minister Pakula said that the MDPP is designed to add significant value to a rapidly growing medtech sector, strongly connecting university capabilities with health entrepreneurs.
"All of the institutions and organisations are absolute leaders in their field and having them all come together to support and promote medtech start-ups really promises a very exciting future for the industry" said Minister Pakula.
The Victorian MDPP partnership is led by Swinburne University of Technology and brings together CSIRO, The University of Melbourne, Monash University, RMIT University, Melbourne Centre for Nanofabrication (part of the Australian National Fabrication Facility (ANFF), and BioMedical Research Victoria, as well as three new partners who were announced on the night; St. Vincent's Hospital, Baker Institute, and La Trobe University.
It leverages the proven model and processes developed and implemented by Flinders University over 10 years, with support from the South Australian Government.
Regional Director MDPP Victoria, Professor Sally McArthur shared her excitement to lead the charge In Victoria.
"Ideas come from anywhere. But really importantly, solutions come from everywhere as well. We need to be co-creating those solutions because we're not patients, we're people, and we're after healthcare not sickcare, so we need to be able to create things that are both useful and usable, and that's really at the heart of the Medical Device Partnering Program" said Professor McArthur.
"Its about identifying the really good ideas early on and bringing a community around them to make them succeed" said Professor McArthur.
Professor Reynolds congratulated Victoria for being the first State (beyond South Australia) to embrace the MDPP, to bring together partners and the network to make it thrive.
"We are passionate about supporting the development of the medical device industry and working with a wide range of stakeholders who can achieve that" says Professor Reynolds.
"Victoria already has excellent research expertise and an entrepreneurial clinical community. The MDPP provides a platform to untap ideas, facilitate collaboration to fast track medtech development in Australia", says Professor Reynolds.
The national expansion of the MDPP has been supported by MTPConnect and the Growth Centres Initiative.
"This is just the beginning. We are working hard to realise expansion Into Queensland, New South Wales and Western Australia In the near future".
If you have an idea for a medical device or assistive technology and need research and development assistance, contact us today.