South Australian start-up company Prohab have been awarded Australia's coveted Good Design Award for design excellence in the medical and scientific category, announced last week (11 July).
Designed in collaboration with Flinders University's Associate Professor in Product Design, Sandy Walker, the Prohab Connected Healthcare Device accurately measures the force-generating capability of an individual's muscle, in order to guide and personalise prescription of exercise and rehabilitation programs.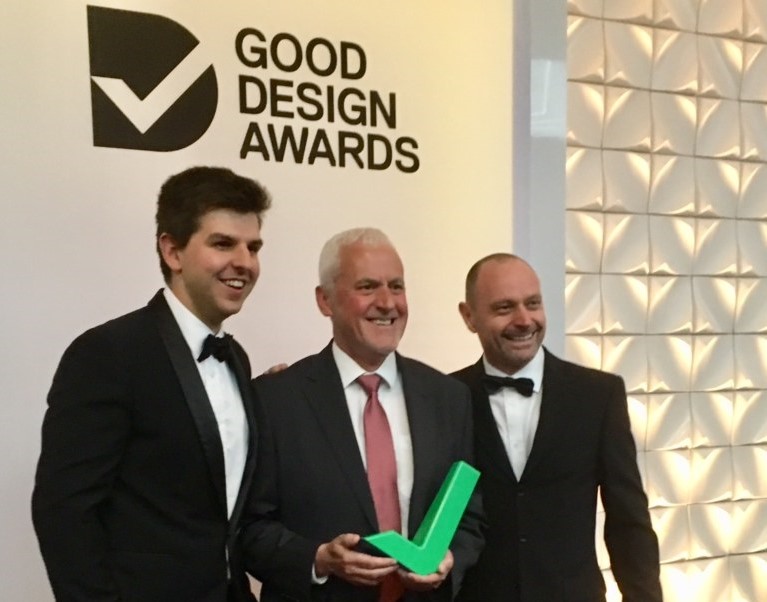 [Pictured: Associate Professor Sandy Walker, centre, with Prohab's Alex Vanderzon, left, and CEO Lyndon Huf at the awards]
Prohab CEO Mr Lyndon Huf says the device empowers the patient to be more engaged and in control of their recovery by using real time data to allow them to monitor their rehabilitation.
"The Prohab device motivates patients recovering from injury, by seamlessly gathering exercise data and keeping track of real-time progress, assisting medical professionals to make better treatment recommendations" says Mr Huf.
"The device communicates rehabilitation data in real-time addressing both the quantity of muscle intensity and volume as well as the quality of the exercises such as the control of muscle contraction".
The winners of Australia's peak industry design awards – the highest honour for design and innovation in the country were announced at The Star on 11 July at the 61st annual Good Design Awards Ceremony.
On receiving the Good Design Award, Mr Huf says, "We are thrilled, this International recognition greatly validates our product and we are excited this timely award aligns with our next phase of investment".
Dr. Brandon Gien, CEO of Good Design Australia says the judging panel praised the PROHAB Connected Healthcare Device commenting, "The design was extremely well resolved. Some of the detail of the physical product were excellent and inspirational in their execution (hinge, switch detention). A clever example of good design applied to an identified user need".
Flinders University Associate Professor Sandy Walker says from their early research, they identified that "ease of clipping and unclipping" to equipment, was a key user requirement.
"Using 'Design Think' methods, I invented an all-in-one, strong but lightweight, titanium chassis, which combined the strain gauge, power switch and two clipping carabiners, into a single integrated component, which could then quickly and easily attached to resistance-bands and cable-based gym equipment' said Associate Professor Walker.
"I was truly inspired by Prohab's vision for the development of a novel rehabilitation device and have been thrilled to work on this project", said Associate Professor Walker.
Professor Karen Reynolds, Flinders University's Dean (Research), College of Science and Engineering and Director of the Medical Device Research Institute at Tonsley, congratulated Prohab and Associate Professor Walker on their successful collaboration.
"Flinders University is a leader in creative discovery and practical solutions, and this award is resounding acknowledgement of Associate Professors Walker's contributions towards the development of Prohab's device" said Professor Reynolds.
This is also a great win for South Australia.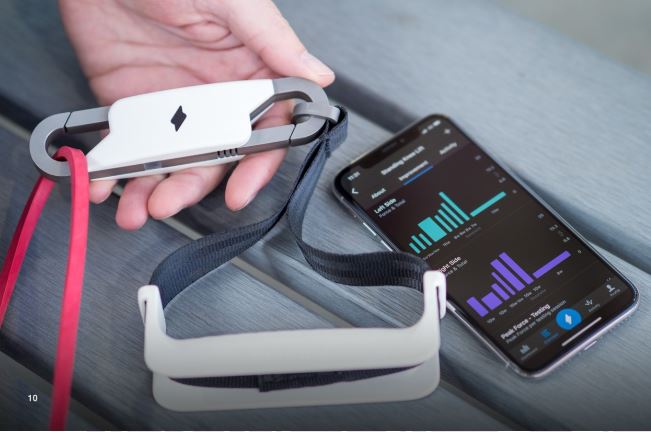 For Mr Huf, it was important to keep as much of the development in South Australia as possible.
"All the research, design, clinical trials and manufacturing for this product have remained in South Australia which is great for the sector" said Mr Huf.
Prohab (initially known as Maction) was born through Flinders University's New Venture Institute's Venture Dorm Program. Mr Huf then turned to the Medical Device Partnering Program to develop his first prototype of the device and was introduced to Associate Professor Walker.
Prohab have since been working to refine and test the product and recently started working with the Innovative Manufacturing Accelerator 4.0 to automate and scale manufacturing.
In 2018, Prohab were recognised with a Design Institute of Australia Premier's Award and Gold Product award for their device, presented by the Hon. David Pisoni, South Australian Minister for Industry and Skills.
This newly announced Good Design Award has Prohab rubbing shoulders with global innovators such as Dyson, HP, Samsung, BMW and Tesla.
Based at the Tonsley Precinct, they are now working with local South Australian company to manufacture the device and are looking at investment opportunities to execute the next stages of their business.
If you are interested in learning more, visit https://www.prohab.ai/
You can view a video about the Prohab's Connected Healthcare Device here - https://www.youtube.com/watch?v=nQ0rdn9orEo