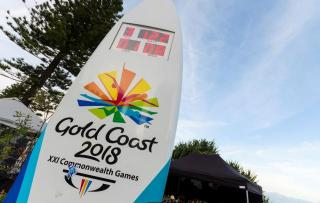 South Australian start-up Prohab will launch its new rehabilitation device at the Gold Coast 2018 Commonwealth Games this month.
The Prohab rehab device connects to standard resistance bands or cables, widely used in physiotherapy, to precisely measure the force applied to the band.
The data is then captured and sent to an app where it can be visualised instantaneously as well as tracked over time.
Whist initially developed for the rehabilitation market, to motivate patients recovering from injury, or surgery and to help medical professional make better and more tailored treatment recommendations to patients, the device can also have a direct impact on the training programs of athletes.
Prohab CEO Mr Lyndon Huf said the device is a great way for professional sports athletes to keep track of their rehabilitation in real time.
"Our Prohab device easily allows athletes and their coaching staff the ability to monitor improvements in strength through testing or rehabilitation training," Mr Huf says.
"Coaches can prescribe a set training program for the athletes and because it fits directly onto existing resistance bands or cables, it is a really easy way to monitor the impact of the training program".
Mr Huf has approached the AFL and other sporting codes, including the Major League Baseball League in the US, and now has the opportunity to pitch the device at the Gold Coast 2018 Commonwealth Games, thanks to the national HYPE Spin Accelerator program.
So when asked what has led Prohab to this point, Mr Huf say's "a lot of hard work, determination and most of all, collaboration".
"We recognised very early in the piece the benefits of collaborating and approached Flinders University's Medical Device Partnering Program to design and build a functional prototype which would be suitable for initial end-user trials," Mr Huf says.
Through this process, the MDPP pulled together 10 experts from physiotherapy, rehabilitation engineering, product design, commercialisation and manufacturing, to discuss the product and inform the MDPP research and development project.
"These connections are so valuable and ended up having a profound impact on the future direction of the Prohab device" said Mr Huf.
It was at this MDPP workshop where Mr Huf was introduced to Flinders University's Associate Professor in Product Design, Sandy Walker.
Associate Professor Walker saw merit in the product and came up with some early conceptual user centered design proposals to present to Prohab and from there, became an integral member of the Prohab design team.
"I have been intimately involved in the development of the final product, assisting Prohab with design for manufacture, usability, materials and advanced manufacturing", Associate Professor Walker says.
"It's a really exciting product because it is so simple, yet has a wide range of applications and users" says Associate Professor Walker .
The team secured a further $78K through UniSA's Future Industries Fund in 2017, to develop a robust and accurate sensor with a unique attachment mechanism for the product.
Mr Huf says Associate Professor Walker's knowledge in design thinking, additive manufacture, 3D visualisation and innovative use of advanced materials and processes has been invaluable.
Prohab is currently located at Flinders University's New Venture Institute (NVI) Tonsley eNVIsion incubator and working with the Tonsley Manufacturing Innovation Hub, on the automated assembly of the device.
To view past news about Prohab (including ABC Adelaide new coverage), click here.